All American Pot Roast -- 10 Ways to Slow Cook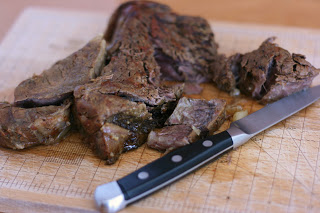 Pot Roast is usually one of the first dishes new slow cooker owners prepare.
If you find that the meat isn't quite as tender as you'd like near dinnertime, remove it from the pot, and cut it into a few pieces before returning it to the pot for a little while longer.
Tough or dry pot roast is a sign that it simply hasn't cooked long enough. You want the meat to relax, and soak up the cooking liquid -- it should literally cut apart with a fork when it's time to serve.
serves 6
1 tablespoon garlic powder
1/4 teaspoon ground black pepper
1 (4-pound) pot roast, trimmed
6 red potatoes, washed and quartered
2 onions, cut into wedges
1 bunch of celery, cut into 1-inch pieces
1 cup carrots cut into 1-inch pieces
Use a 6-quart slow cooker. In a small bowl, combine the garlic powder, basil, salt, and pepper. Rub the spices into the meat, taking care to cover all sides.
Place the meat into the insert. Nestle all the vegetables around the meat. Pour in the broth. Cover, and cook on low for 8 to 10 hours, or until the meat has relaxed and pulls apart easily with a fork.
When I can find chuck roast on sale for right around $2/pound, I buy it. It might not be on meal plan or on my weekly grocery list, but I'll snatch it up anyway to shove into the freezer.
I look at chuck roast as sort of a blank canvas. If I'm in a sweet mood, I can slather it with cranberries or maple syrup, or make it salty with soy sauce.
I can even cut it into little pieces and have it simmer away in an Indian-inspired masala sauce.
Here are some other great pot roast recipes that utilize either a chuck or rump roast --- I think you'll be pleased with the different ways you can serve it!
3 Packet Roast (this is the easiest pot roast recipe, ever. It can be a bit salty; look for low-sodium packets at the store.)
Java Roast (don't throw out the end of the coffee, make it into a delicious sauce!)
I hope this helps decide what's for dinner this week!
Cheers to the best year, ever!